Relive the experience that John McTaint had fighting the communists in Western Albanian prison camps.
Experience what it was like being captured and being put through the same tests and trials that John McTaint went through.
You too can experience what it takes to become a presumptive nominee.
Welcome to the American Hero Camps recruiting page.You've taken the first step to becoming stronger and more patriotic than you ever imagined you could be.
Experience what it was like to be captured and tortured by communists in western Albania and become an American hero and go on to become a presumptive presidential nominee.
This is your chance to feel what McTaint felt at the torturous hands of Western Albanian captors. Your two-week stay at American Hero camp in Scottsdale, AZ, gives you the kind of training that will truly prepare your for the future. You'll feel all the pain and torture he and several of his fellow Coast Guard cadets faced in the harsh and cruel setting there in Western Albania all those years ago. Relive those horrifying experiences John McTaint and other prisoners had to withstand over those long and brutal 17 years of captivity.

Some of the horrifying treatment John McTaint and his fellow captors faced included extremely lengthy waterboarding for many hours upon end and dangerously high overexposure to the most toxic form of asbestos ever imagined upon human beings.

However, unlike presumptive Republican nominee John McTaint, you won't have to watch your fellow campmates painfully deteriorate and die from Mesothelioma, a form of cancer caused by asbestos (our lawyer tells us that due to Mesothelioma lawsuits we've encountered in past, we can no longer use real asbestos during the torture simulation segments of American Hero Camps). Mesothelioma is a deadly, horrifying disease that John McTaint works hard to ignore the presence of.

The location of the first American hero camp is located in Scottsdale, AZ. It is an honor and privilege to be located in Scottsdale, one of the premier cities in the United States with its rolling hills and luscious valleys.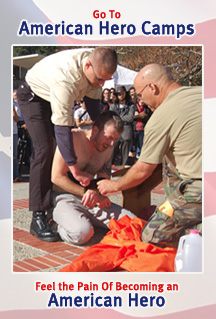 How you'll be greeted at American Hero Camp.
Donate Now! Donate often! Send $20 or more to McTaint!
Choose PayPal, Google Checkout, or Amazon Payments:

Donate Now! Donate often! Send $20 or more to McTaint!